2005 Annual General Meeting - Orlando, Florida
March 31, 2005

to

April 03, 2005
Registrar:
Ginger Corda - Jerry Wise - John Falco
Helpful Links:
- Links and Resources -
Complete Official Annoucement - *LINKS TO JCNA PAGE*
The JCNA AGM : Presentation - *LINKS TO JCNA PAGE*
2005 AGM Registration Form 
Official Notice & Proxy  (pdf)
Official Notice & Proxy (word)
AGM Agenda   (updated 3/29/05)
Direct Link to AGM Hotel Reservation Page
Wyndham Palace Resort Website
Order discounted Park tickets
 
- Schedule -
Thursday- March 31st
3 - 7pm Hospitality Room
Friday- April 1st
8am - 5pm Hospitality Room
8am - 3pm JCNA Board of Director
3pm - 5 pm Seminars:
-Judging the Mark II
-Troubleshooting the XKE
5:45pm - 9pm Reception at Paradise Grove
Saturday- April 2nd
6:45am - 7:45am Breakfast
8am - 11am Registration & Vendors
8am - 3pm Annual General Meeting
12pm-1pm Lunch
3pm - 5pm Seminars:
-Chief Judge Training
- JCNA Slalom & HPDE
6:30pm Cocktail hour
7:30 pm Cocktail Hour, Banquet and Awards, Guest Speaker : Jaguar Racing and Trans Am legend Bob Tullius
Sunday - April 3rd
Richard Petty Driving Experience
Event Details:
>> New 2005 Executive committee <<
President : Bill Streitenberger
Vice President : Barbara Grayson
Secretary : Sherman Taffel
Member : Lisa Hendrix
>> Special awards <<
Karen Miller award, editor of the year : Harry Parkinson, JANE
Andrew Whyte service award : Judy Graven, JOCLA
Fred Horner: Scott & Linda Young, JC Tulsa
Dealer of the year: Hennessey Jaguar, Atlanta Ga
Webmaster of the year: John P. Richardson, JS of South Carolina
Proposals & Agendas:
note: proposals passed are noted in green with year proposal takes effect. Rejected proposals are marked in red.
3/29/05 Final BOD Agenda
3295/05 Final AGM Agenda
: JCRC Proposals :
3/16/05 - Rule Book Chapter II - *NOT FOUND*
2/23/05 - Introdution to Chapter VI Revision - *NOT FOUND*
2/21/05 - Rule Book Chapter VI  - *NOT FOUND*
2/1/05 - Mechanical Judging Rule Changes
2/4/05 - Mark II Judging guide, by George Jones (read this first) -*FILE TOO BIG*
2/10/05 - Revised 2005 Score Sheets :
Interior - Exterior - Engine - Operation Verifications - *FILES NOT FOUND*
 
Other Proposals :
2/15/05 - 2a : XJS Concours Class split 
note : see AGM Agenda for detailed proposal
C15A / D08A : 1976 1991 pre facelift
C15B / D08B : 1992 1996 post facelift
2005
2/15/05 - 2b : Rally Rules
2/15/05 - 3a : Proposed modification to bylaws, board meetings( Steve Weinstein ) 2005
2/15/05 - 3e : Proposed slalom protest procedure ( Steve Weinstein ) 2005
2/27/05 - Proposed Judge Roster and Judge Report procedure( Pascal Gademer )  2005
3/5/05 - Rally Rule Changes, proposed by Rally Committe ( Brian Blackwell ) 
Complete rule book rewrite :
Table of Content
Chapter 1
Chapter 2
Chapter 3
Chapter 4
Chapter 5
Chapter 6
Chapter 7
Chapter 8
Chapter 9
Glossary
Registration Form
Data Collection
Committee Reports:
2/10/05 - Slalom Committe Report ( Steve Weinstein )
2/10/05 - Communications Committee Report ( Pascal Gademer )  
2/27/05 - HPDE Report ( Gary Hagopian )   
2/27/05 - Event Sanction Report ( Lynn Cunnigham )  
3/15/05 - Jaguar Journal Report ( Mike Cook )  
 
The following reports were not received as separate documents but can be found in the AGM Agenda :  
Club News / Archives – Nelson Rath
Special Awards – Barbara Grayson
Awards Management – Kurt Rappold
Business / Insurance – Jim Hendrix
Concours Advocate – Lisa Hendrix
Events Sanctions & Schedule – Lynn Cunningham
General Counsel – Brock McPherson
JCNA Directories – Dick Deibel
JCNA Membership / Roster – Nelson Rath
Nominating – Brock McPherson
Protest – Randy Prine
Rally – Brian Blackwell
JCRC – Dick Cavicke
Passport to Service – Sue Hagopian
The Jaguar Club of Florida welcomes you to escape to sunny central Florida in the Spring for the JCNA AGM. 
The weekend will be packed full of information and adventure, as we have an exciting line up for all JCNA members and their families who attend. 
Our wonderful Friday night Reception will have a tropical feel at nearby Paradise Cove, sponsored by Collier Jaguar of Orlando. The business meetings Friday and Saturday will be followed by two excellent seminars. They will cover important topics such as Judging the MKII, Troubleshooting the XKE, Slalom and Chief Judge Training. We plan to have a special guest speaker at the Awards Banquet Saturday night. To top it all off, Sunday will find several Jaguar enthusiasts at the Disney race track for a Richard Petty Experience.
Of course, your favorite vendors and sponsors will be attending, and Southern hospitality will abound during your stay. In this great location, there are several side trips available to all the guests. In fact, a fantastic Disney hotel rate of $112 is available for 3 days prior to and after the event dates, so take advantage of the opportunity to stay a while, and enjoy other area attractions and Florida beaches while you are here.
Registration forms will be available soon, but make your airline reservations now for this busy season. More information will be posted as it becomes available.
Important Update (Nov. 19th): Due to hurricane damage, the Royal Plaza hotel will not re-open in time for the AGM. The JCOF AGM Committee as been working with Disney World Resorts to come up with an alternative.
The new host hotel for the AGM is now not just a hotel but a five star resort: the Wyndham Palace Resort and Spa featuring 8 restaurants, 10 000sq foot full service spa and firtness center, 3 pools, golf course, tennis, court and more. All for the same rate of only $112 a night which includes discounted admission to the parks.
Hotel features can be seen at www.wyndhampalaceresort.com.; For online reservations click on the reservation link to access a JCNA AGM reservation page. A special toll free number will be announced in a few days for reservations.
Start planning now, this very special rate is available up to 3 days before and after the AGM date, so why not make the 2005 AGM part of your winter vacation in sunny Florida... And, yes we can guarantee a Hurricane free stay!
Dec. 3rd Update : Registration from will be avaialable shortly. Link to special page where you can order discounted tickets to Disney parks has been added.
Dec 21st : Complete Official Announcement posted
Jan 26th: Jaguar Racing and Trans Am legend Bob Tullius will be the guest speaker at the Banquet Saturday night !
March 6th : Preliminary agenda, proxy, official notice available, see below...
April 2nd: Page update with AGM results
Scroll down to proposal section to view results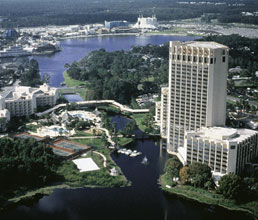 Sponsor Logos: