Click on one of the catalog covers to view tools or browse the listings below.
To order a tool, please write the tool number and description, and click on Tool Loan Order Form to request tool
(Catalogs are in PDF format and will open in a separate tab)
PLEASE NOTE PATRONS ARE SOLEY RESPONSIBLE FOR DETERMINING WHAT TOOLS ARE REQUIRED FOR THE JOB. DO YOUR RESEARCH BEFORE PLACING AN ORDER.
PDF File Of Tools Currently Available
Go to this LINK for an interactive version of the current JLR Essential Special Service Tools Catalog.
Churchill, Zelenda,OTC, SPX official shop tools
Official Jaguar Shop Tools
Due to an executed MOI between the Coventry Foundation and JCNA all tools have been relocated and sorted at the Foundations Facility. This move is seamless for JCNA members who have benefited from the vast holdings of the foundation for over 8 years. So the process for JCNA members to loan tools remains the same. There will be many additions to the PDF of tools available in the near future as there are many offerings that are not listed. The illustration is simply one wall of Official tools held by both organizations. Soon tools that are excess to both organizations needs will be offered for purchase at a fraction of their original cost and much less that current offerings on line. 
Also for you cross breeders the influx of tools has provided many special tools for Triumph, MG, Rover, Daimler, Austin, Healey and others. Feel free to ask if they are available either here or on the Foundations web site at www.CoventryFoundation.org.
Please note that the listing here is for information. You may not order off of this listing. Please see the "How to use the Tool loan" button on the page above.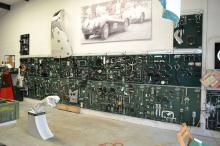 Non-Jaguar British Tool Lists
The Coventry Foundation was fortunate in having the opportunity to acquire a collection of non-Jaguar special tools and they may be ordered by Foundation & British Sports Car Hall of Fame Patrons and JCNA Members following the procedures discussed above and on the other Tool Loan Program pages.