Jaguar C-X75 will become the British marqueÔÇÖs most advanced model to date. It will offer performance on par with the fastest production cars on the market, while adopting cutting-edge technology that offers remarkably economical running. Jaguar expects this hybrid supercar to deliver incredibly low CO2 emissions of less than 99g/km while being able to achieve in excess of 200mph.
Basics of the new car include:
-Mixing internal combustion power with electric motors to achieve supercar performance and less than 99g/km CO2 emissions
-Downsizing highly boosted petrol engine with two powerful electric motors and four-wheel-drive
-0-60mph in less than 3 seconds
-0-100mph in less than 6 seconds
-Top speed in excess of 200mph
-All-electric running range in excess of 50km
-True-to-concept, lightweight, all carbon-fibre chassis
-Groundbreaking association with Williams F1 ÔÇô built in the UK
-Direct technology transfer from top-level motorsport
-Prices from ?ú700,000 depending on local market and taxes
-Exclusive limited volume hybrid supercar ÔÇô only 250 will be built
For more information on the car visit: http://www.jaguar.com/gl/en/#/about_jaguar/75th_Anniversary/c-x75/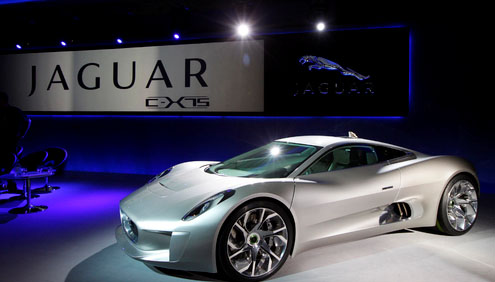 Submitted by jpbii@yahoo.com on Mon, 11/07/2011 - 19:37
May be just a bit ahead of it's time. But kudos to Jaguar for the high ambition. What a stunningly beautiful car (I feel like calling it a 'car' is an understatement!)! Those turbines are almost scarey looking! lol. Tell me this car won't get 'their' attention. It makes me even MORE proud to own a Jaguar. Even though mine is a '99, not a '12.
Submitted by ekimp252@aol.com on Sun, 11/06/2011 - 08:03
While I understand the impracticality of the originals multi fuel turbines, I understand that the Williams folks are having some difficulty with the turbo 4 cylinder that is going to power this, when it comes to market.