Hi. I've just acquired a 1935 SS Jaguar 2 1/2 litre saloon, chassis & running gear complete, which I intend to rebody. I'm currently considering redoing it with an SS90 replica body from the bulkhead rearwards, as the original seats, bulkhead & engine bay sheetmetal, bonnet, radiator & shell & original badge ("SS Jaguar") are all intact & in excellent condition. Ditto the wheels, axles, original engine & gearbox, brakes & gas tank. I would very much like to converse with anyone having detailed knowledge of such a project, from any point of view. Although the very rusty, stripped saloon body is on the East coast (I'm in California" and I have all of the original saloon hardware as I'm 6'-5'' I wouldn't fit in it anyway, so thus the open two seater redo. I can also be reached at my email address, which is saylor@redshift.com My thanks for any replies, hopefully nice ones. Best regards to all, Rich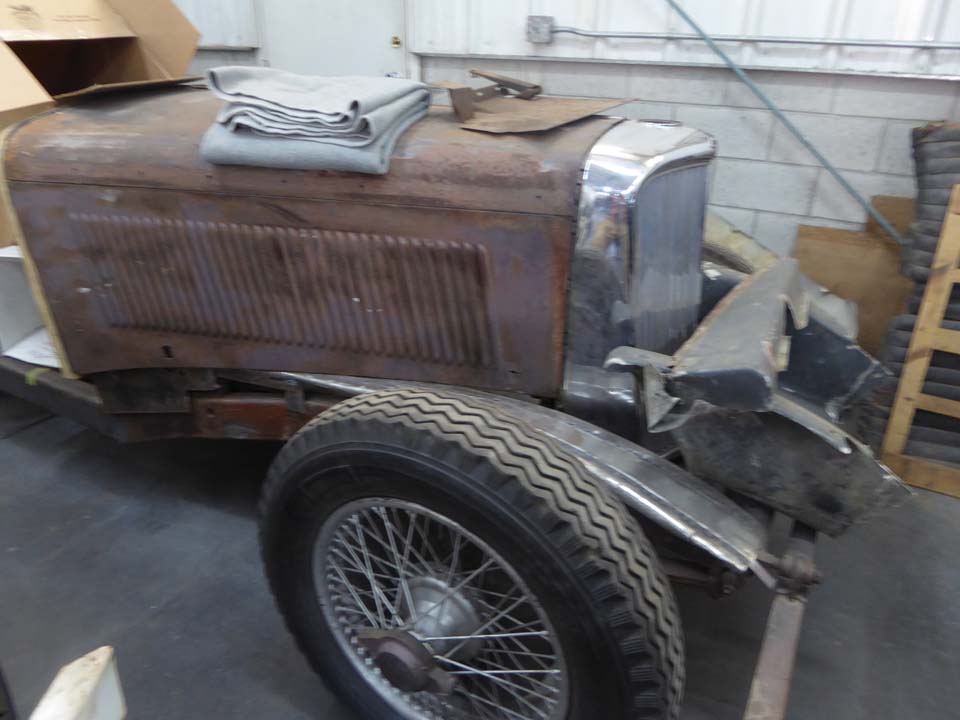 Submitted by Rich Saylor on Sun, 11/05/2017 - 10:07
Well, it's now November 2017, some 2 years 4 months into my project, which is building an SS100 starting with the essentials of a 1936 SS 2.5 litre saloon. I started out knowing very little about SS100's, other than I really like them... but as the commenter above pointed out the engines are different in the 90, which I had assumed might be easier to do, but not so, especially as no one is making parts for them. So an SS100 it is. I got in contact with experts around the world- the UK of course, then Australia, South Africa and so on. I found a complete replica wood tub (frame) in Oz, and another gentleman there who agreed to make the essential parts of the chassis, leaving out the center X-bracing and a few other bits such as the radiator support crossmember. Leaving out major chassis parts turned out to be not a very good decision as it took about a year to interpret the factory drawings, do AutoCAD drawings and have the parts cut on a CNC machine and folded into shape, then cut & weld the parts to the chassis side rails, which had been sent along with the tub as separate pieces, not attached to the main crossmembers. Took forever! The reason I did this was because I thought I could reuse the center crossmember (very complicated bit!) from the saloon chassis in the new 100 chassis, but sadly the angles are different, and it really wouldn't work. So sad! But I did reuse the handbrake bits, though the handbrake lever itself was missing, but it turns out the XK150 part is identical, and I did find one... works perfectly! Next, I removed all the necessary working bits from the old saloon chassis... axles, springs, steering column (which is shorter than the SS100 column) and so on. the Luvax shocks were destroyed, so I took some very helpful advice and used MGB rear (lever) Armstrong shocks front & rear, which when mounted on the chassis in brackets made as close as possible to the original Luvax brackets, fit & work fine. Another hair-pulling project, but it got done. I later found out that postwar Jaguars used the same Armstrong shocks... the saloon springs had to be rebuilt (too many leaves) and the fronts shortened, but finally fit fine; the chassis rails are inboard of the saloon rails by about 2 inches each side, so the cast trunnions for the front springs are different, as the springs are under the rails on the saloon, but outboard on the 100. Anyway lots of stuff like that; it all takes a helluva lot of research, trial-by-error fitting and so on. I also have available a reasonably nearby original 100 to look at and photograph for details.... anytime I have a chance to get close to an original 100 I do it; I live right next to Pebble Beach so during Car Week (in August) there's generally someone with an SS100 to take a look at... though they all look the same, they aren't, not just because of the differences in the 2.5 vs. the 3.5 but because of changes made over the nearly 80 some years since the last ones were made. And, since each was handbuilt there appear to be some small detail differences as well, but that's hard to determine, so I do the best I can, working from my own photos and the many photos posted on the internet. So far I have yet to find a published book on parts, operating systems (in detail) or a comprehensive workshop manual (such as exist for nearly every postwar Jaguar!); I truly wish I had one, but no luck so far! I've also taken a good look at Suffolk's creation, but other than most of the external, very visible bits, underneath the figerglass body nothing whatever is even remotely the same as the original car...different type of chassis, modern XK engine/gearbox, and so on...disc brakes, too, with Andre-Hartford "dummy" shocks to conceal the huge differences. I had working A-H replicas (VintageCarParts.com) made for my car. The Suffolk car has the tank as part of the body, and is a dummy tank, so the real tank is underneath the bodywork...the coil-tube petrol tank breather is nonworking on the Suffolk car, as well. And so on. Of course the Suffolk car, being made from mostly modern components, is a "better" car, functionally, twincam engine, disc brakes pressurized cooling system and so on, but...
I might mention that I've had some 7 Jaguars in the past; 3 E-Type roadsters, 1 coupe, an SS150, and an XJ6...my dad bought a new Mk VII in (I think) 1952, but had so much trouble keeping it on the road- it was ALWAYS in the shop for something- he finally sold it a couple of years later. Darn! Pretty car, too; powder blue metallic, very nice! As for the E-Types, I bought them all used (some VERY used) and learned to work on them all... I got my real start in learning to work on British sports cars when I bought my first Elan, new... went to driving school & raced in SCCA for 3 years. Couldn't afford to compete successfully against the factory, professionally driven cars (I was in C-Production) so finally gave it up to continue my architectural career. Anyway many, many British car projects later here I am, looking for the pot o' gold at the end of the rainbow, so to speak. No worries, as they say...
Well, I'm going to post a photo of the car as it is now, finally got it on the ground last week, after being perched on sawhorses for the last 2+ years! Next comes making all the mechanicals work & fitted to the chassis, then paneling ( I have all 4 wings and the tank, but the wings- original SS100 ones- need a lot of work, but they do fit!). And so on.
I've had a great deal of help from new SS "friends" around the world, without whom this particular project could never have even been started, let along brought to its current state- my thanks to them all; they know who they are!
And, if anyone reading this is thinking about a similar project (or is actually doing one) and needs some help, I will if I can- my email is saylor@redshift.com; drop me a line anytime!
So cheers for now,
Rich Saylor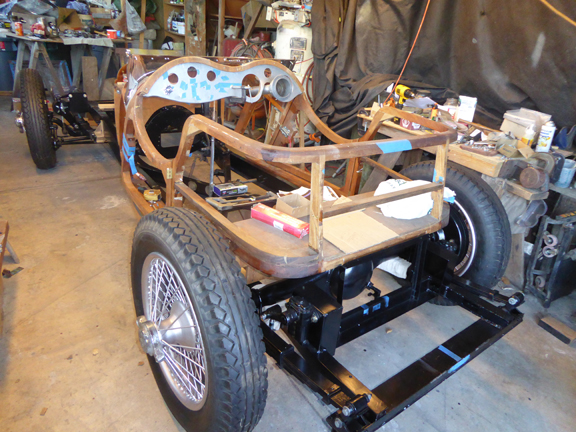 Submitted by NE08-35179J-J on Sat, 07/25/2015 - 20:38
Greetings Rich,
Keep in mind that you'll need to make some hard decisions as once you start any compromise you make will affect the final outcome and if too many shortcuts are taken it will just be a bad kit car and even if you do it well it will only be a close replica that some unsuspecting buyer might buy after you tire of it. The number of SS100 out there exceeds the production numbers, there are lots of forgeries and owners of real cars are known to protect their car's provenance by legal action so be advised.
Have a bunch of questions, so bear with me?
Understand if you scrimp here and there on this it'll
Why an SS90, the donor car you're using has an OHV engine and the SS90 had a flathead?
Currently my 1934 SS1 is looking for a flathead so I'm always plugging that fact. Standard made the flathead, for SS feel free pass along my email to anyone who may have leads. rossw.lovell@yahoo.com
I'm in the midst of a pretty comprehensive restoration. My car sat on a trailer under a tarp for over 30 years. Being an open car mine suffered greatly. The trailer first lost air in its tires and eventually the rear of the trailer and later the car's rear frame sank into the ground and commenced to return to its original form.
The body had been replaced with something from an early MG and the engine was eventually replaced with first a Dodge flathead six and manual transmission and then later with a Desoto hemi under 300 cubes. I bought the car without the Desoto powerplant. Currently have a 2.5 and a 3.5 OHV engine but still looking for a flathead.
Familiar with what you are trying to accomplish. You better have a large supply of the greenbacks as the wood structured coachwork will be expensive along with the metal that will gets tacked to the structure. A cowl will set you back a considerable sum $3-5K easily for woodwork alone, and you still have the rest of the rear body, the doors and the top envelope/frame assembly.
Suffolk Engineering makes a very realistic SS100, one of those is probably cheaper than what you are currently planning, but it's your money.
None of the glass kits are even close to being accurate, though I was at Greenwich a few weeks back where a deceased owner of a real SS90 and SS100, also being sold, had made a pretty good copy but that rolling chassis with a 4 cylinder sold for $19K and it wasn't finished.
If memory serves me correctly the wheelbase of your frame will need to be altered and I don't believe the bonnet you are going to use will look correct as it is too short for the rest of the car with a two door configuration.
Few people have the necessary skillsets to accomplish this undertaking and fewer have the tenacity to commit to what the accuracy is really going to cost.
Enclosed a couple of pictures of my cowl mock-up and frame. I was unbelievably lucky to find an original cowl that I could use as a pattern to make the new one for my car. An original cowl and the mock-up. There's far more to the job than you think. The frame is painted white as it easier for me to see datum marks I make as this car will be built multiple times for fit before it's finished.