What's that Knocking?
I've had my 1970 E Type for 37 years now, (bought it in 1979) taking it on numerous weekend trips over the years, it's never left me stranded.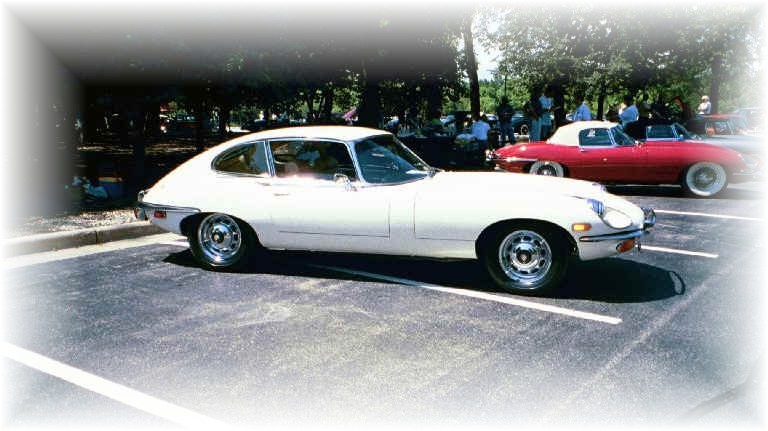 I keep a plastic sheet under it in the garage, since it leaks a lot of oil and transmission fluid but that's never been a reason to pull the engine and fix it.
For years now, I've had a little "knock" when starting up the engine. "Knock" "knock" "knock" and then it disappears. Didn't bother me for the past 20 years since I knew the oil was getting pumped up where it was supposed to be and doing its job taking up any space & lubricating.
The last year or so the "knock" is always there at idle. It will go away when you give it the gas but something seems wrong at idle.
I decided to pull off the oil pan to see if I could find anything. I dropped the pan without removing the dreaded suspension tie plate.  It required jacking up the front of the engine and the transmission a little, to get the pan to clear the tie plate.
I started checking connecting rod and main bearing clearances, they were fine. At first I didn't notice anything and was just about to put the pan back on. Then I noticed one cylinder had a dark area that looked like scratching. It was obvious that this needed looking into and the only way to do that would be remove the head and pull out the piston.  Not a job I really wanted to continue with but it had to be done.
After getting the piston out you could see the scratching, it was mostly at the very bottom, below the oil ring and didn't seem that bad. The wrist pin was definitely worn, you could wiggle it side to side. Maybe I could just replace a piston and wrist pin and be on the road again.  Most of other cylinders looked fine however,  I did notice some more light scuffing in at least one other cylinder.
Time to ask around with my Jag friends and get some advice. Most seemed to think it was an oiling problem, made sense to me since the wrist pin was worn.  After talking to the experts, I figured I might as well do it the right way and rebuild the whole engine.
Now I finally have a reason to pull the engine/transmission and get both rebuilt like new.  I would rather not but at 46 years old, I know its time to bite the bullet and do it.
Stay tuned for part 2 in the next issue. Pulling an XK engine by yourself!