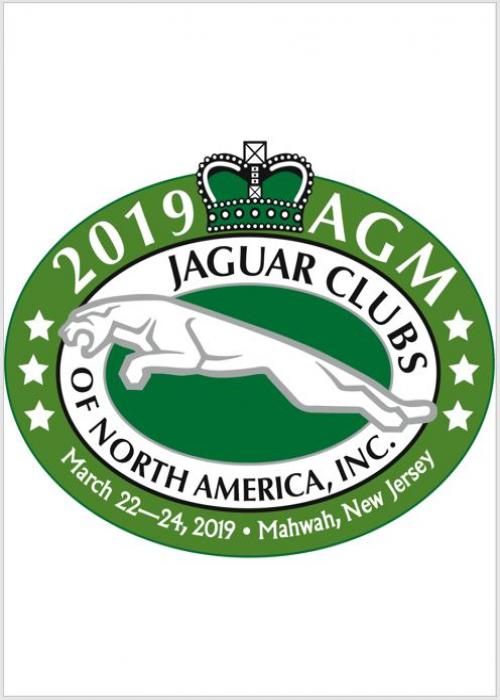 Date: Mar, 22 2019 Mar, 24 2019
Event Details
Information Updated: March 16, 2019.
Host Hotel: Sheraton Mahwah Hotel, 1 International Boulevard, Route 17 North Mahwah, New Jersey 07495
Hotel Reservations: JCNA Member Registration or call (201) 529-1660 and quote code 'Jaguarclub.' Group room rate is $136 / night plus taxes and hotel fees.
AGM Registration: Closed.
Ground Transportation from Newark International Airport to the Sheraton Mahwah Hotel: Expect travel to take about one hour, depending on traffic. Bookable options include: Perfect Limo, (800) 666-7819; Addison Lee, (888) 888-5466; Jazz Limo, (201) 783-7466.
Hotel Shuttle Service: JLR HQ is a 5-10 minute walk from the Sheraton. The hotel has a free shuttle for participants who require transportation.
The Friday BOD Meeting & Saturday AGM will be held at JLR HQ adjacent to the cafeteria. Enter the building through the 'Main Entrance' in front of the flags. Except for the cafeteria area, all sections of the are off limits on Friday and Saturday until the seminars start.
Beverages will be available on both days in the cafeteria at no cost.
Friday/Saturday Seminars: To avoid crowding, it will be necessary to split attendees into two groups each day, so please indicate a preference. Depending on numbers, you may be asked to switch groups to equalize the split. Brief test drives of new product should be available.
Friday Evening Optional NYC Trip: Hosted by The Empire Club and JLR, the cost will be the price of a train ticket (less than $20) paid at the station, plus your own spending money. Numbers are needed for host planning.
The hotel shuttle will take you to Mahwah train station, with the trip ending at Penn. Station. There will be experts with you and you should plan your evening, so they can help you with directions. If you have not taken a Grey Line tour of NYC, that might be a good option. The company has a hop-on, hop-off system, which you can read about on their website, as well as other interesting ideas. See: https://www.newyorksightseeing.com/double-decker-bus-tours.html and https://www.grayline.com/things-to-do/united-states/new-york-city/.
Saturday Guest Activity: The West Point tour is only available to the first 55 JCNA members, guests and/or JLR employees who book a place. Departure and return points are the Sheraton hotel and include lunch plus museum and academy tours. More details will be provided to participants.
Coach USA will pick up members at the front of the hotel and take you to Highland Falls. Lunch will be held at the Park Restaurant, run by the Pozo family and a landmark in itself. For those of you not wishing to have lunch, you might take a quick walk to Benny Haven's Tavern where "hot flips" have been served for almost 200 years.
The West Point Tour will begin in the West Point Museum where many unique and extremely significant historical artifacts are housed. There will be at least three docents with the group to guide and answer questions. Following the museum will be a professionally-guided tour through West Point lasting three hours. The bus is equipped with a rest room. Please understand that this is an active military post and security requirements must be met or you will be denied access.
Proper ID is defined at https://www.usma.edu/Visiting/SitePages/Home.aspx but a passport would be best. JCNA MUST have your name as on your ID no later than March 1 2019, to complete the required manifest and transmit it to USMA.
Payment Methods: Payment must be made in full for all activities at the time of registration/booking.
For those NOT wishing to join the trip to NYC on Friday evening, the hotel has a fine restaurant, but other options might be a group visit to the Mason Jar, or the more upscale River Palm. Again, there is a shuttle, but we suggest you form groups to use this service. Otherwise you may drive, use the excellent taxis or Uber/Lyft ride services. Walking to these locations is not an option.
Schedule
Thursday, March 21st
TBD – BOD / Delegate Registration at Sheraton Hotel
6:00 – 6:30 pm – BOD Cocktails at Sheraton Hotel Mahwah Bar
6:30 – 9:30 pm – BOD Dinner at River Palm Restaurant
Friday, March 22nd
TBD – BOD Registration at Sheraton Hotel
7:00 – 8:00 am – BoD Breakfast at JLR Cafeteria
8:00 am – 3:00 pm – BOD Meeting (12:00 – 12:30 – Lunch at JLR Cafeteria)
1:00 – 2:00 pm – Seminar #1: JLR Tour & Q/A Session
1:00 – 2:00 pm – Seminar #2: JLR Technical Training Center
3:15 – 4:15 pm – Seminar #1: JLR Tour & Q/A Session
3:15 – 4:15 pm – Seminar #2: JLR Technical Training Center
Evening – NYC Trip: Price is the cost of a train ticket from Mahwah to Penn Station (<$20). Sight-seeing/shopping as desired. Numbers important for planning.
Saturday, March 23rd
7:30 – 8:00 am - Delegate Breakfast at JLR Cafeteria
8:00 am – 3:00 pm – Annual General Meeting (Time TBD – Lunch at JLR Cafeteria)
3:00 – 4:00 pm – Seminar #1: Coventry Foundation Presentation
3:00 – 4:00 pm – Seminar #2: JLR New Product Demonstrations
4:15 – 5:15 pm – Seminar #3: JLR New Product Demonstrations
4:15 – 5:15 pm – Seminar #4: TBD
6:00 – 10:00 pm – AGM Dinner / Awards Banquet at Sheraton Illusions Ballroom
Time TBD – Guest Program: United States Military Academy at West Point Tour
Sunday, March 24th
8:00 – 10:00 am – BOD Meeting at Sheraton Hotel
Deadlines
Book Tour To West Point - Closed.
Cancellation refunds will be paid up to one week before the event, except West Point (no refunds)
ATTENTION -  Online Registration Is Now Closed!
New Business
Included In Committee Reports.
Registrar
JCNA Administrator George Camp